Detailed Directions
---
Clarendon Chalets is really easy to find. It is only a short distance from Mount Gambier. If you get stuck, hopefully this page will get you there without too much fuss.

To help find Clarendon Chalets, use the tools provided on this page.
---
Mount Gambier
Mount Gambier is a bustling city of about 25,000 people. The main industries are forestry plantations and agriculture. It is the second largest city in South Australia. Mount Gambier has extensive shopping area's and is home to the world famous Blue Lake, which changes colour each year to a vibrant blue late in November.
---
Punt Road
This road is also referred to as Glenelg River Road or Nelson Road or C192

If you are coming into Mount Gambier from Adelaide, follow Jubilee Highway East towards Victoria. Turn right at the traffic lights (Harvey Norman on the left and South Eastern Hotel on the right) then on to Pick Avenue which leads to Glenelg River Road (Punt Road) C192. If you are travelling from the city centre on Commercial Street East, turn right into Pick Avenue. If you are coming from Melbourne, turn left at traffic lights (Harvey Norman on the right and South Eastern Hotel straight ahead) onto Pick Avenue. Continue on Pick Avenue out of Mount Gambier onto the Glenelg River Road or Punt Road toward Nelson.
---
Clarke Road (Clarke Road)
At the 9 km post (You should see 3 'Barn' signs ahead on your left - Clarke Road is just before these), turn left into Clarke Road and continue for approximately 500 metres to the entrance of Clarendon Chalets. Turn left and follow the tree lined driveway to the Chalets which are within a short distance.
---
Clarendon Chalets Welcome Map
Upon entering the Clarendon Chalets driveway, the Chalets up just up ahead. Each Chalet has it's own parking area. Click on the thumbnail map of the Chalets to see details of the parking areas.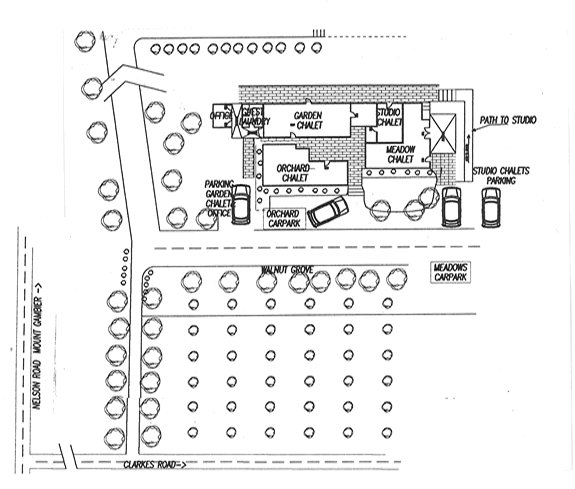 ---
GPS or smartphone Positioning
If you have a GPS handy, use the following address to find Clarendon Chalets

City/Postcode: Mount Gambier or 5290
Street: Clarke Road
Crossing: Punt Road C192 or Glenelg River {Highway or Road} (C192)

If available use the following coordinates:

Latitude: -37.898° or S 37.898°
Longitude: 140.7983° or E 140.7983°

Google Maps: -37.898,140.7983or59 Clarke Road O B Flat, SA

If you have an iPhone or iPad and are using the iOS Maps app, type the following into the search bar or follow the link below:

59 Clarke Road Grant, SA

If you have an Android smartphone and have the Google Maps app type the following into the search bar or follow the link below:

59 Clarke Road O B

Flat, SA